Teaching
Music Studio
Jessica Krash runs a private studio for lessons in piano, chamber music, theory, and composition for students of all ages and levels. Jessica teaches the rigorous traditions of piano playing and composition, but also helps students figure out when to break with tradition.
"I see teaching piano as an artistic conversation. Through studying individual pieces of music and technical skills, we explore together the nature of musical understandings. We use music to understand the outside world: the essences of structures and stories, feelings, textures, qualities of motion, worldviews and values. In turn, we bring our knowledge and experiences of the world to help us better understand music and make better music. We notice in music parallels to the way conversations work, how stories unfold, how feelings change, how ideas move, and how people and objects move. Moving through music history, we experience what people cared about at times and places far from our own."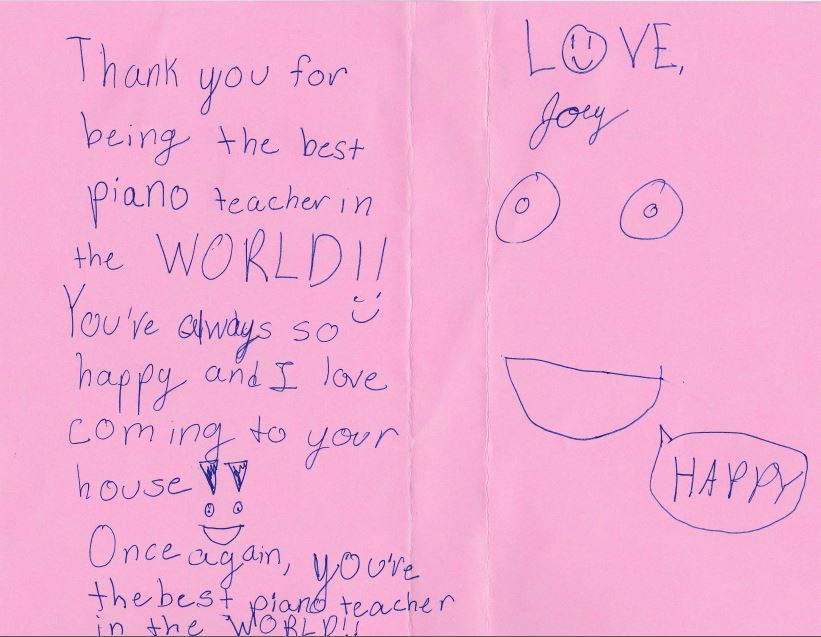 Chamber Music Seminar
A mixture of discussion, concerts, and master class with Jessica Krash, the seminar has been meeting in Washington, DC for 25 years, and always welcomes new players and listeners.
The seminar emphasizes the richness of playing music in the context of a conversation. Much of the historic chamber music came from communities that valued conversation as an art form. Chamber music itself often has phrasing that works like people talking to each other. Classes are centered on a dialogue of vibrant, intelligent, musical amateurs who bring their knowledge of other fields to a discussion of music. In recent years, they have been joined by composers and professional musicians. Discussions include topics from music history and literature, the joys and challenges of ensemble playing, and performance strategies and anxieties. Most of the participants bring an instrument, but some come just to participate in the dialogue. All levels of players are welcome, including people playing chamber music for the first time. The seminar recognizes that people who are busy in other professions go in and out of shape with their instrument-playing, so the emphasis is on listening to what musicians are trying, hoping, to convey. Some seminar players trained to be professional musicians but went into other professions – the seminar gives them a chance to continue a lifelong involvement with music at a high level. To find out about participating, email jkrash2@gmail.com
UPCOMING SEMINAR SESSIONS:
Sunday, November 19, 10:30am-12:30pm 3Bs: OUR OLD FRIENDS, BACH, BEETHOVEN, AND BRAHMS (coaching and discussion led by Jessica with Tanya Anisimova)
Saturdays, March 3, 10, and 17 in the Mansion at Strathmore, all at 1-3pm, DANCE IN CHAMBER MUSIC (coaching and discussion with Jessica, culminating in a concert by participants on March 17)
Sunday, May 20, 10:30am COMPLEX IDENTITIES (coaching and discussion led by Jessica)